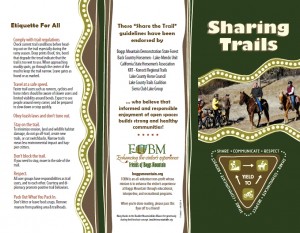 Multi-Use Etiquette
For evacuation safety, please do not block parking lot, campsite, or road access with your vehicle, esp. trailers and RVs.
Maximum vehicle speed limit on all forest roads is 15 miles per hour.
Motor vehicles stay on marked roads only.
Vehicles yield to non-motorized users: pedestrians, equestrians, bicyclists.
No trail maintenance, pruning or trail modifications without prior approval of the Forest Manager.
Communication is the best way to assure safe and pleasant encounters on the trail. Click on the above image for more details on sharing trails.
Please ride within your and your animal's abilities on public trails. Horses should be kept under control and may not be left unattended.
Horses should not be tethered to trees, shrubs, or other structures.
Do not clean your horse trailer in the parking area. There is a manure bin at the horse camp.
Step off the trail when possible if your horse relieves itself, or kick the droppings off the trail.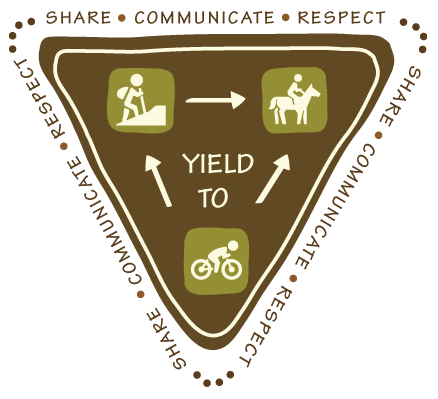 BMDSF Rules and Regulations
Camping is allowed only in designated campgrounds. Please note that as of June 25, 2020, there is a fee of $25/night per campsite. Please contact the forest manager for group site fees and view this press release for June 2020 new regulations.
Build campfires only in pits or stoves at camping areas and attend at all times. PREVENT WILDFIRES.
Keep a clean camp. Take your garbage and trash with you when you leave as there is no garbage pickup service in this forest.
Restrict motor vehicle use to existing roads. MOTOR VEHICLES ARE PROHIBITED FROM TRAILS AND CROSS COUNTRY TRAVEL.
No Hunting or shooting unless permissible under CCR 1413 and Ca FGC 3004 or as posted. CCR 1413 states: "It is unlawful for any person to intentionally discharge any firearm … over or across any public road or other established way open to the public in an unsafe and reckless manner. [or] … to hunt or discharge while hunting, any firearm or other deadly weapon within 150 yards of any occupied dwelling, house, residence, or other building … in connection therewith." Ca FGC 3004: The 150-yard area is a "safety zone".
Confine smoking to camp areas, within vehicles, or within areas cleared to bare mineral soil at least 3 feet in diameter.
No rock, soil, greenery, forest products, trees or plants shall be cut, defaced, or removed without a written permit.
Keep pets leashed and controlled in camp areas and on the trails.
Keep horses out of Calso and Ridge camps.
No structures shall be erected on State Forest Land.