Ever wonder why there's a helipad at Boggs?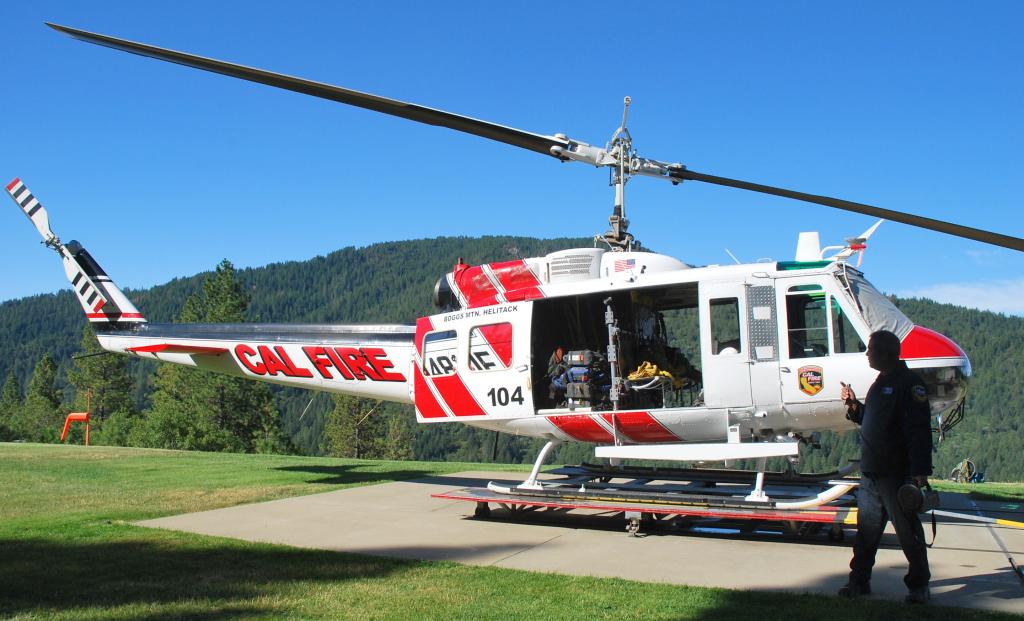 CAL FIRE uses the Super Huey helicopters for fast initial attack on wildfires. The copters are able to deliver a seven-person fire crew wherever needed as well as battle fires with water drops. The copters are also used for medical evacuations, backfiring operations on wildland fires using either a helitorch or a ping-pong ball machine-Chemical Ignition Device System ( CIDS), cargo transport ( internal and external loads), mapping, crew shuttles, and numerous non-fire emergency missions.
Since 1997, CAL FIRE helicopter crews have been trained to do "short haul" rescues. Short haul involves a crew member being lowered from a hovering helicopter to an injured or trapped person below. Once hooked to a harness or basket, both the victim and crew member are then carried a short distance to safety.
SPECS:
CAL FIRE Boggs Mountain Helitack Copter 104
Type: Bell UH1-H Super Huey
Date of manufacture: 1973
Crew: 1 pilot, 2 fire captains, and 5 firefighters
Gross weight: 10,200lbs
Payload: 324 gallon bucket
Cruise speed: 126mph
Range: 250 miles
Endurance: 2 hour
Initial attack area: Sonoma, Lake, Napa, Colusa, Yolo, Solano, and Marin counties.